Go Directly to Suss!
It will be worth your time. Unfortunately, she is closing her Manhattan store but fortunately she's getting rid of her inventory. And the prices are good...real good...i want to go back... Here is what I walked away with, and I am promising myself right now, with you all and God as my witnesses, that I WILL NOT go back and buy more.
First up is the
Fishnet
that I had been eyeing for a while and the shrug I plan to make with it:
Next is the
Ull
that I bought a boatload to double up and make the Central Park Hoodie in the latest Knitscene:
Then, we have some
Ultrasoft
, that I plan to make into the Tulip cardi from Knitscene:
I also got more Ultrasoft in this color to make a top that is another Suss design.
It's batwings and off one shoulder, very open fabric...Can not wait to get started on this!
And lastly, some random yarns.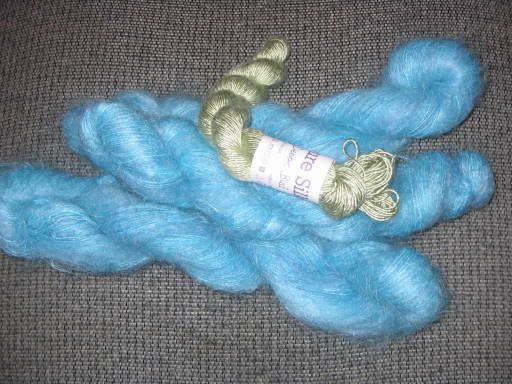 The blue didn't have a label but maybe I can make a small lace something? It was $1/skein, come on! And the green is for my One Skein Secret Pal...it's silk, that's all you get!
I think a yarn diet is IN ORDER!!!