A Crawlin We Will Go!
Yarn crawlin, that is. On Saturday, despite the rain, we went on the first part of the yarn crawl. We started off at
The Point
, of course.
My Point purchase. You can never have too many patterns, can you?
Then we headed over to
Purl and Purl Patchwork
.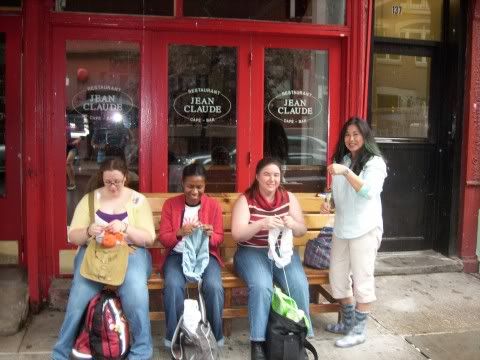 Edit
: Here is a pic of us (Liz, myself and
Katy
knit while
Maria
spins)waiting for Purl to open. Luckily, the restaurant next door neglected to pull up the awning the night before and we were able to take shelter from the rain.
There is a halter pattern in the Rowan book that I must add to the 'To Do'list.
My last purchase of the day was this
fabric
and a pattern for the
Amy Butler Cabo halter
. I really thought about 'being sick' yesterday so I could work on it but decided to save it for my No Knitting Friday.
After lunch, we continued on to
Suss
and hung out there for a while to wait out the rain. Everyone else went to
Knitty City
after that but I had to head home. Oh, and when we were in Soho, I had a celebrity sighting of Julianna Margulies.