The Bead Goes On.....
I have an FO! I made this cuff for my friend's bday. I used TLC cotton so I added buttons (and Claudine added button holes for me..thanks, C!)cause I didn't want it to stretch out from being pulled on and off. Here is Jenn, modeling it for me.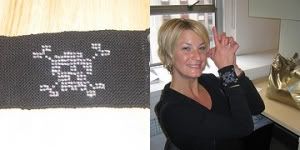 And what do I do when I finish a project? Work on one of the many WIPs in the sidebar? Guess again! I start another project!!! I started the Sweet Pea shawl from the Happy Hooker. I'm using Patons Brilliant cause I'm wearing it to a wedding and I want to look Brilliant, of course!